Benefits of partnering with VEIU : Partnership with VEIU reinforces commitment to the teaching profession and improves standards of teaching in schools, colleges, training providers and other agencies. It also helps shape our student training policy. 1. Motivation Teaching 2. Global perspective in life and professional decisions 3. Professional performance 4 Global Research Collaboration High View 4. Provides multiple views, approaches and thinking, 5. Promotes diversity of ideas 6. Shared student talent ; Educate the next generation's faculty in the methods of global research ; Educate leaders of tomorrow in developing countries and Global Research Collaboration Direct Benefits 7. Faculty access to specialized research facilities not available at home institution or country – Exercise complementary capabilities ; Share large scale one of a kind facilities ; University- specific equipment and laboratories 8. Leverage funding from multiple national funding sources 9. Large long term projects can withstand the "ebbs and tides" of national funding priorities and cycles – Shared risk 10. … Global Engagement Opportunities 11. Education Abroad 12. Courses with an embedded international travel component 13. Global student team projects and/or collaboration embedded in a course 14. Co-supervision of graduate students or post-docs with both a Penn State and international university faculty advisor 15. Collaborative research programs 16. International student activities on campus 17. Hosting of international scholars 18. Faculty sabbatical leaves, Fulbright Scholarships and International service projects and activities 19. International internships for students 20. International staff exchange.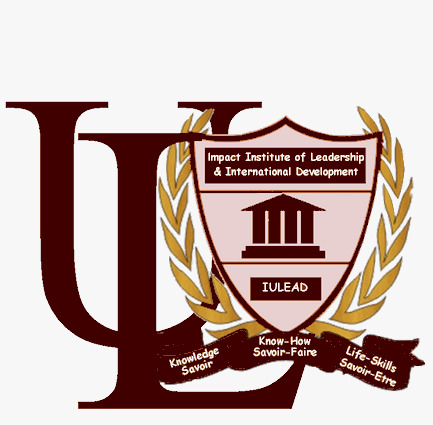 Impact University of Leadership and International Development
Agape Church and Ministries International. At Agape Church and Ministries International, we are a fellowship that restores love and Power of God in homes and Christian organizations. In partnership with Vision for Excellence International University, we assure the training of local Ministers and assistance to the neediest including vulnerable, orphans and widows. We train leaders because the quality of the church depends on the quality of leaders that serve the church. Agape Church and Ministries International is committed to train Christ Centered, Community Impacting leaders with Calling, Character and Competence.
« Association des Volontaires pour la Réconciliation et le Développent des Pays des grands-Lacs ». The Volunteers Association for Reconciliation and Development in Great Lakes Countries of Africa. Based in the Democratic Republic of Congo, AVRD is an Organization that intervenes in contributing foe the development of the Democratic Republic of Congo in particular and in the great Lakes region ( Africa) in general by promoting by fighting against all kind of violence based on gender. AVRD PGL intervenes in Protection, Education, Health and food safety. Funded by different United Nations agencies and other donors, apart from the above domain of intervention, AVRD PGL has been implementing many projects in entrepreneurship too such building schools, bridges, Health center etc. in partnership

Potter Ministries International. Founded by Doc James V. Potter in 1988, Potter Ministries International is a worldwide ministry network committed to the equipping of believers for ministry positions; facilitating unity in the body of Christ. We offer the Christian Messianic Community the following: * Pastoral training and continuing education through our educational division – Vision for Excellence University * Organization and guidance for conducting Crusades, Conferences, Seminars and Workshops * Publishing services through Potter Publishing House ~ Books in print, Kindle eBooks, Music, PowerPoint and Message CD and DVD duplication services * Translation Services in selected languages * Oversight and guidance of affiliated ministries * Oversight and guidance of affiliated orphanages, elder care and handicap centers * Providing qualified applicants ministerial licensing, ordination and consecration.
Under the lead of Prof. Doc Lucien MUDUNGA James, UNA-RDC is one of the French spoken countries that work with VEIU for helping to reinforce commitment to the teaching profession and improves standards of teaching in schools, colleges, training providers and other agencies. It also helps shape our student training policy.